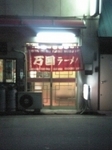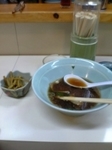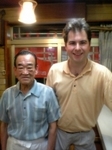 Among many other Japanese foods, I love ramen.
らめんがだいすき。そゆとみそすきですけどそゆのほうがすき
Many people ask whether I prefer Soy or Miso ramen. I guess I would
have to choose Soy, but it really depends on the restaurant. I have my select ramen restaurants in Fukushima, but you'll often find me in Bangkok Ramen. I first went to this restaurant in May 2003. Upon my return to Japan, I had to
go back. And they remembered me! Lately, I've been eating their Chashumen ramen, but I still enjoy the regular and Bangkok ramen.
Being small and relatively unknown, and a long walk from the station, its patrons are mostly locals. At this point I fancy myself as a local here too. Almost every week I walk in and get a nice warm welcome and practice my laughable Japanese. The people are really nice, though a little older.
Often I find their Japanese really difficult to understand, but then I just remember some older Canadians I know and imagine foreigners trying to understand them (or even English speakers for that matter).I feel kind of like the restaurant international representative as I've introduced my Canadian friends, colleagues, and even two of my family members to this restaurant. My father and sister both enjoyed the restaurant on their two separate trips. Also, two of my Canadian friends also visited Bangkok Ramen.
Like I said, it really makes me feel like a local here and it's especially nice when they let me sample some Japanese dishes (on the house). For instance, just the other night they were kind enough to let me try some chopped vegetable roots.
Of course, Bangkok Ramen is only open for lunch and dinner. After a night of drinking and karaoke, I have to fulfill my ramen needs elsewhere. But that's for another diary…
まいしゅかんにいかいくらいばんこくらめんにいきます。さいきんちゃしゅめんれめんおたべますけどふつとばんこくらめんもすきです。じゅぎょいんはおもしろいとやさしい。わたし
のにほんごはへたからでんたつはときどきむずかし。うによくぼくのじしおおもってくる。
ここでわたしはじもとのひとみたい。いつもサービスでにほんのりおりおもらいます。このまいきんぴらごぼおもらいました。このおみせはいっぱいひとにおしえました。りょこにいって
るときはちちといもとおつれていきました。カナダじんのともだちも。そしてよくどりおといきます。
あいにくおそくにあいてません。のみかいとからおけのあとはちがうおみせがいかなければならないです。でもここわすきならめんところです。